PRODUCTS
archive
LOCATION
Augusta & Oxford
Kensington Market
TYPE
Take out
TTC
College or Spadina streetcars
PRICE RANGE
$$
Del.icio.us

Digg

Stumble Upon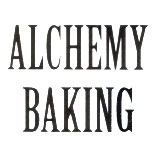 Alchemy Baking
You are here:

Toronto

>

archive

> Alchemy Baking


287 Augusta Avenue

Map it!

Toronto

,

ON

416 531-2471
SHOP CLOSED Alchemy bakes a variety of round crusty breads, (including interesting novelties such as muesli, blue corn-jalapeno or apple-walnut), as well as many kinds of cookies. Alchemy also carries tarts from the Queen of Tarts and delicious pastries from Dessert Trends.




Peek inside


Map it!

See what's near Alchemy Baking.
Visit the official Alchemy Baking site.

---
LATEST USER REVIEWS

From: Ken
Sadly, Alchemy Baking (at 287 Augusta in the Market) has now closed down. We'll miss their sourdough loaves, their flavoured meringues and curry shortbreads. There's a sign in the window which says that Wanda's Pie in the Sky will be opening at that same location.
From: Hal Swann
I just wish Brian would make those delectable lemon squares again.
Read all user reviews, Add your own review.

The YummyBaguette website is in no way affiliated with Alchemy Baking in Toronto, but don't hesitate to let the owners know how you found them!