INGREDIENTS
3 chocolate bars (300g, 10.5 oz)
150mL (2/3 cup) whipping cream (35% fat)
1 tbsp. butter

GLAZES
2 cakes
DIFFICULTY
easy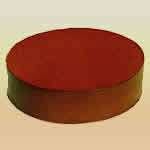 Chocolate Icing Recipe





Melt the chocolate using a bain-marie: put water in the bottom part of a double boiler and the chocolate in the top part. When the chocolate has melted, bring the cream to a simmer and incorporate into the chocolate along with the butter. Use the preparation to glaze your cake with a palette knife.
Tips:
- The better the quality of the chocolate you use, the better your chocolate icing will taste. You can use white, milk or dark chocolate for this recipe.
- Infusing the cream with herbs or grated citrus peel as you make it simmer will nicely flavour the glazing.


Don't miss our other French dessert recipes and original ice-cream recipes!